KYOTOPHONIE's Autumn edition will be held over a long weekend on one of Japan's most iconic landscapes, that spans the mouth of Miyazu Bay in the scenic, coastal region of northern Kyoto Prefecture. Viewed from the mountains at either end of the bay, the Amanohashidate Sandbar (a bridge to heaven) is one of Japan's three most scenic views. Join us for the first event of its kind in this amazing National Park.


タイムテーブル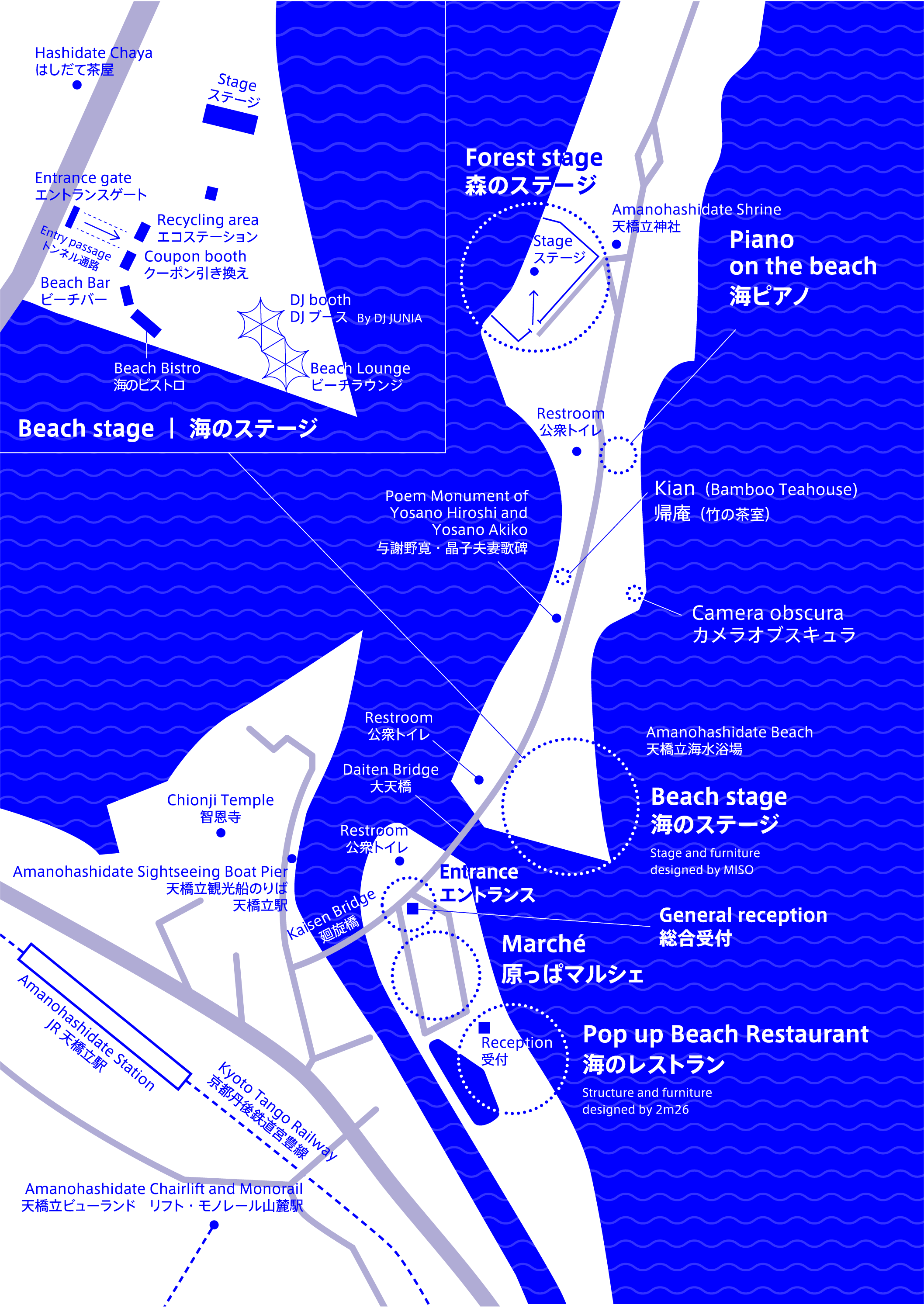 チケット
★Free Bus & Music Ticket is also on sale at the same price! Peatix only
1 Day Ticket

12,000yen (General, Advanced)


★FREE BUS

15,000yen (General, On the day)
9,000yen (Student, Advanced)


★FREE BUS

12,000yen (Student, On the day)

2 Days Ticket

20,000yen (General, Advanced)


★FREE BUS

26,000yen (General, On the day)
14,000yen (Student, Advanced)


★FREE BUS

20,000yen (Student, On the day)
★FREE BUS & Music Ticket Admission Ticket for sale in advance on September 6, 2023
This ticket includes a free bus ride from Amanohashidate to JR Kyoto Station after the show.
There is no charge for the bus ride. The bus ride is guaranteed at the same time you purchase the ticket.
The bus is scheduled to arrive near JR Kyoto Station around 11:30 pm. However, we cannot guarantee that the bus will be in contact with the last train of each company due to traffic conditions and other factors.
If you purchase a 2-days pass, you will board the bus on the 8th, a 7th pass on the 7th, and an 8th pass on the 8th. However, sales will end as soon as the bus seats are full. If the seats are full, the schedule for the next bus is not yet determined.

For those who purchased tickets before September 6, 2023, please contact the secretariat before the event date, and we will respond to your request on a case-by-case basis.
For each ticket, only one person is allowed to enter (a separate ticket is required for each individual, including high school students and above). The event will proceed in rainy weather. In the event that the performance is altered or canceled due to the impact of war, terrorism, earthquakes, tsunamis, volcanic eruptions, typhoons, or other natural disasters, refunds will not be provided. Compensation for travel expenses and other costs (including cancellation fees) to the venue will not be offered in the case of event cancellation or delay.
Refunds will not be granted if the lineup of performing artists changes or if performances are canceled for any reason. Changes or cancellations after applying for tickets will not be accepted. Please take note.
Tickets can be purchased from authorized sales outlets, either e+ or Peatix. If purchasing from overseas, please use Peatix. Tickets purchased from unauthorized sources are invalid, and in the event of disputes or ticket refunds due to cancellations, the event organizers will not be involved.
Tickets will be exchanged for wristbands at the venue. Entry will not be permitted with the ticket alone. Pre-sending of wristbands will not be carried out. The transfer or resale of wristbands is not allowed. For student tickets, student identification must be presented when exchanging for wristbands. If unable to provide identification, the price difference between student and regular tickets must be paid.
Ticket and wristband reissuance will not be available under any circumstances. If wristbands are removed or lost, attendees must either leave or repurchase them. Please handle them with care.
Sales will end once all ticket types are sold out. Visual and photographic footage from within the venue, including the audience area, may be shared externally for promotional purposes. Please be aware of this in advance.
Additionally, please read all terms and conditions carefully before purchasing tickets.

ガストロノミー
KYOTOPHONIE 2023 Amanohashidate invites Michelin-starred chef from France and other unique chefs from Tokyo and Kyoto for a two-day only special gastronomy experience. Each chef will showcase their specialty using a variety of attractive ingredients from the Tango region, such as seafood from the rich fishing grounds of Miyazu Bay, seasonal vegetables grown by dedicated organic farmers and venison hunted in the region's mountains, offering a special experience to be savoured while enjoying the sea view of Amanohashidate.
Pop Up Beach Restaurant
Joining forces in their second collaboration, Michelin-starred chef Armand Arnal ('La Chassagnette', Arles, France) and Masayo Funakoshi ('Farmoon', Kitashirakawa, Kyoto) cook together on the shore in an exclusive KYOTOPHONIE pop-up beach restaurant designed as a one-off culinary experience.
With carefully selected ingredients from the Tango region, including seafood from the waters of Miyazu Bay, organic produce, and venison hunted in the natural surroundings of Tango, they present their interpretation of Amanohashidate in a distinctive course featuring unique dishes, providing a sensory feast while overlooking the ocean.
Michelin star chef

Armand Arnal
La Chassagnette

Arles, France

Masayo Funakoshi
Farmoon

Kitashirakawa, Kyoto
Lunch
Dinner
Price (tax incl.)
¥12,000
¥20,000
Reception Hours
11:30


Start 12:00

17:30


Start 18:00

Course
3 dishes / drinks included
5 dishes / drink pairing included
Booking deadline: 3 Oct 23:59
Sales of on the day tickets are yet to be confirmed.
Please indicate any food allergies at the time of registration.
Children's prices or children's menus are not available. There is no age limit for children. However, if seating is required, a standard fee will be charged. Prams are allowed.
Restaurant reservations can be made without a music festival ticket.
The restaurant is located on the opposite side of the main stage area, so diners will not have a close view of the stage while eating. Speakers will be set up in the restaurant area, allowing you to listen to the music being played on the stage.
Pop Up Beach Bistro
Presented by Rimpei Yoshikawa, owner-chef of the popular restaurant 'Pignon' in Shibuya, Tokyo, and Fumihiko Oumi, the current chef of 'DELTA/KYOTOGRAPHIE Permanent Space' on the 'Beach Stage' area.
Rimpei Yoshikawa loves the sea and is a surfer. With the belief that 'Nature is a treasure trove of ideas,' he will offer à la carte dishes of his speciality charcoal cooking, using seasonal ingredients from the Tango region and local fish and meat, with elements of cuisine from different countries inspired by his travels. This is also a special reunion with Fumihiko Oumi, who was the former sous chef at Pignon! Natural French wine from SERVIN will be served by the glass, to be enjoyed together with the meal.
Rimpei Yoshikawa
Pignon

Shibuya, Tokyo

Fumihiko Oumi
DELTA

Demachiyanagi, Kyoto
| | |
| --- | --- |
| 時間 | 12:00 - 20:30 |
| Price (tax incl.) | 1品 ¥1,500 ~ ¥2,500 |
KYOTOPHONIE BAR
The two-day mobile bar is parked on the sand of the Beach Stage, featuring bartender Tetsuo Yoshioka, owner of Kyoto's izakaya 'Berangkat', creating specially crafted cocktails to match the vibe of the festival.
KYOTOPHONIE partner beverages are also available, including KINOBI Gin, local craft beers, and other festival partner drinks.
Marché
The marché will be held on the Amanohashidate Kotenbashi Square across the Amanohashidate Kaisenkyo (Rotating Bridge). Popular food trucks from neighbouring areas and popular shops from Kyoto City, Awaji Island, and Chiba will open their stalls. Enjoy delicious food, drinks and shopping.
*This is the list of stalls as of 14 September. They are subject to change without notice.
Please purchase exclusive food & beverage festival coupons (in units of 100 yen) and use it at the time of payment.
The marché is located in the free admission area; anyone is welcome to visit.
Please return plates, glasses and other tableware to the shop where the food was provided. There are no waste bins available.

イベント
In addition to music and food, KYOTOPHONIE 2023 Amanohashidate will feature a bamboo tearoom and kids' workshops for an even more unique experience.

アクセス
Access to Amanohashidate can be achieved through three main transportation options: train, highway bus, and car.
By train: the JR Kyoto Station offers the "Hashidate Limited Express" service, which provides a convenient and direct route to Amanohashidate Station without any transfers.
By highway bus: daily bus services are available from JR Kyoto Station and Hankyu Umeda Station to Amanohashidate.
By car: there are approximately 500 paid parking spaces available within walking distance of the venue.
For access information from major cities, real-time traffic updates, and more detailed access details, please visit the Sea of Kyoto DMO website.

開催概要
Title

KYOTOPHONIE BORDERLESS MUSIC FESTIVAL 2023 AMANOHASHIDATE

Dates

7 (Sat) and 8 (Sun), October 2023
Start: 11:45~ (Doors open at 11:00~) End: around 20:30 *TBD

Artists

7th
Miyazu Matsuri ・Ukidaiko (Miyazu) / Chico César (Brazil) / U-zhaan×Tamaki ROY×Chinza DOPENESS (Japan) / baobab (Japan) / Julia Shortreed (Japan) / SKY H1 & Mika Oki presented by Bottega Veneta(Belgium)


8th
ICHIKO AOBA (Japan) / Eiko Ishibashi Band Set (Japan) / Luedji Luna (Brazil) / INNA DE YARD "The Soul of Jamaica" with HORACE ANDY, CEDRIC MYTON from The Congos and WINSTON MCANUFF (Jamaica), backed by Home Grown/ Kakushin Nishihara (Japan) / Eki Shola(UK) / Circo de Sastre (Japan)


Organised by

KYOTOPHONIE

Co-organised by

Kyoto Prefecture, Miyazu City, Kyoto of the Sea DMO

Main Sponsor

BOTTEGA VENETA

Sponsors

THE RITZ-CARLTON KYOTO, CHEERIO

Support

Discover Japan's Hidden Treasures!, Brazilian Embassy, Jamaican Embassy

Partners

MC DECAUX、FUJIFILM、HEARST fujingaho、TELMONT、 KINOBI、MRAIZ、AIRSTAR、BRUNO、SUKIYAKI

Hotel partners

NOKU KYOTO、node hotel、Oakwood Hotel Oike、Kyoto、Gion Misen、NOHGA KIYOMIZU

Local Partners

Genmyoan, Kyoto Hokuto Shinkin, Amanohashidate Tourism association, Amanohashidate Monju Haneikai, Amanohashidate Winery, Ryutonomatsu

Collaborator

KYOTOGRAPHIE International Photography Festival